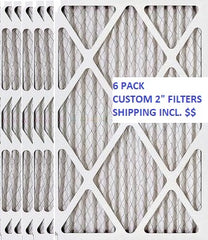 2" Custom Size Merv 8 Standard Pleated - Case of 6
PLEATED MERV 8 (Standard Capacity) CUSTOM SIZE 2" FILTERS
*Due to increasing shipping charges we will no longer make filters any longer than 25 inches if you require a longer length please consider halving your length and combining two filters
STEP 1 - Enter exact size (height and length) in inches
STEP 2 - Select correct square inch area*
Pricing is by the case of 6 individual filters.
Multiply your height and length measurements to obtain correct square area
Measurements must be in INCHES and EXACT 
Note: Some filters are marked in nominal sizes and will measure smaller. ALWAYS double check measurements.
*Select correct square inch area
Example:
H = 16"   L = 22"  
Square inch area (16 x 22 ) =  352
Select 300-699"
Note: We occasionally combine filter frames to achieve long lengths. This is industry standard and all glues we use are specially classified to be used in these applications
*Image is representation only
PLEASE NOTE THERE IS A 25% RESTOCKING FEE IF CUSTOM SIZED FILTERS ARE CANCELLED OR CHANGED IN ANY WAY AFTER ORDER IS PLACED
PLEASE ALLOW 2-3 WEEKS FOR FILTERS TO BE MANUFACTURED