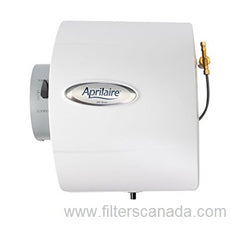 Aprilaire 400M Humidifier Unit
Need to maximize your humidity control with minimal water?

The Aprilaire Model 400 Whole-House Humidifier features a built-in bypass damper and utilizes new evaporative technology to minimize water use. Gravity pulls water down, while the wicking action of the Water Panel  draws it back to the top, using 100% of the water delivered to the unit.


Features truly automatic control
Eliminates standing water, making it the perfect choice for homes with septic systems, locations where a floor drain is not available or families interested in water conservation
Has an evaporation capacity of 0.70 gallons per hour
Humidifies tightly-constructed homes up to a 4,000 square foot in size
The Aprilaire Model 400 Whole-House Humidifier is one of the newer additions to the extensive line of Aprilaire Humidifiers and may be the perfect solution for your home. For some homes, a manual control may be recommended. The Aprilaire digital control can be used in manual mode while still providing vital service, temperature and relative humidity indicators.