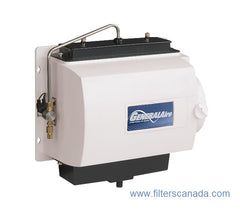 Generalaire Model 1042 Humidifier
Ideal for homes up to 2000 Sq Ft.
Parts Included:
• GF-1042 DMM Humidifier with Damper
• MHX3 Select-Control Manual Humidistat
• 24V Stainless Steel Solenoid Valve
• Narrow Plenum Adapter Plate
• Self-Tapping Saddle Valve

Applications: Warm Air Furnace Supply Or Return Installation.
Unit Size: 15" Wide X 11 1/2" High X 9" Deep
Plenum Opening: 10 1/4" Wide X 9.25" High or X 9 1/4 Wide X 9 1/2" High
5-Year Manufacture's Limited Warranty: Covers defects in materials and workmanship of the product only. Labour excluded.