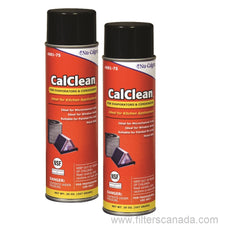 Metal Cleaner - AC fans, coils, Kitchen metals detergent
Two- pack 20 oz. Aerosol Cans
Nu-Calgon - A heavy duty detergent containing surfactants, grease solvents, alkaline cleaners, corrosion inhibitors and water conditioners.
Ideal for cleaning window units as well as small evaporator coils, air cooled condenser coils, metal filters, fan blades, walk-ins, reach-ins, coolers, freezers, microchannels, A/C systems, and other surfaces soiled with greasy dust and dirt.
When used as directed, CalClean will not corrode any metal.
CalClean is acceptable for use as a general cleaner on surfaces in and around food processing areas, where its use is not intended for direct or indirect food contact. (Such as hood baffle filters) Cover or remove all food products around the area where the product will be used.
Food preparation surfaces cleaned by this product must be rinsed with potable water prior to preparing food.