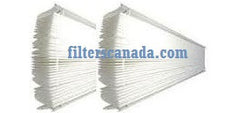 Lennox X8309 Merv 10 Two pack - 16X25X5 HCXF16-10 replacement filter Canada
X8309 TWO PACK 

Lennox/Healthy Climate Filters Canada
Media Replacement for Lennox Model HCFX16-10
Expandable filter Measurements 16" x 25" x 5"
(Actual Size of Assembled Frame - 15-3/4" X 24-3/4" X 4-7/16")
The Lennox Healthy Climate X8309 expandable media air cleaner uses a MERV 10 filter to capture particles down to 0.3 micron. In most home environments, this filter only needs to be replaced every 9-12 months
Lennox X8309 (HCXF16-10) Expandable Replacement Filter - 16x25x5



This Original Lennox Healthy Climate expandable media filter is rated at MERV 10 and removes up to 85% of particles, down to 3 microns. 





This filter must be used with plastic frame.  

The plastic frame is NOT included with this filter

.  If you have accidentially thrown away your plastic frame  - you can purchase a new kit





NOTE: Plastic frame gets re-used.  When changing filter - replace media but

do not discard plastic frame.


Features:
Factory Original Healthy Climate product
MERV 10 Efficiency Rating
Removes up to 85% of particles, down to 3 microns, including pollen, dust and dirt, pet dander, dust mites, mold/fungi
Space-saving expandable filter
 Expandable media air filter - ships like a collapsed accordion and is expanded into existing frame, which is assembled around the filter
Easy-to-follow directions printed on side of filter carton
Change filter ever 9-12 months, depending on environmen