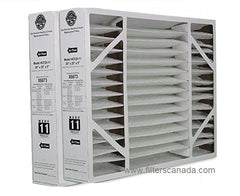 Lennox X6673 20x25x5 Furnace Filters
Lennox X6673 20x25x5 Two Pack - Furnace Filters Canada
20x25x5"
MERV 10 Efficiency
Filter For Model HCF20-10 Air Cleaners 
Carrier: EZXCAB020, FILCABCC0020, MPKA0020, MPKA, MACA
Honeywell: F25A1068, 1067, 1024, F100-1037, 1032, 1038, 2010, 2044, F150E-1034, F200E-1037
The Lennox Healthy Climate boxed media air cleaner uses a Merv 10 filter to capture particles down to 0.3 micron.
In most home environments, this filter only needs to be replaced every 6 months.  
Disposable, pleated MERV 10 filter targets dust mites, pollen, mold spores, pet dander and other contaminants down to 0.3 microns are captured by the filter. The filters pleated design draws particles deep inside the filter, allowing maximum air flow and filtration efficiency. Conventional filters trap larger particles at the surface of the filter, which can restrict air flow and reduce the efficiency of the HVAC system.