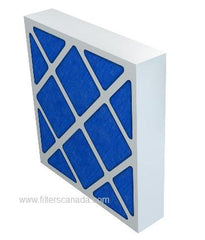 Goldshield TUV-RFM-4-2025 Freshaire UV Reactive Media Filter
UV-RFM-4-2025 Replacement Filter Canada
COVID-19 ALERT -  Due to a serge of sales on UV air quality products, our suppliers are very low stocked at the moment. THESE ITEMS ARE VERY SLOW AT THE MOMENT. CALL OFFICE FOR UPDATES ON ORDERS. 
This efficient MERV 11 filter media kills germs with Goldshield™ antimicrobial nanotechnology and works with UV lights to trap and destroy contaminants. Unique filter material will not degrade from exposure to UV light.
Replacement 4" UV Reactive Media Filter for Fresh-Aire UV Purity 20" X 25" X 4"
Old part numbers:
R17F / MAY or NOR2025           
TUV-PRT-(ER/ST/SP)-17.5F
TUV-RFM-4-2025
For use with Reliance Equipment TUV UV system. Blue media uv filter 20x25
Comes collapsed, expands into correct size.
* this is a special order item. Please allow 5-10 business days for delivery during normal times.
Do you to Covid-19 we are currently experiencing backlog on this item. Please feel free to order online to be placed in priority sequence on the waiting list we will notify you as soon as we get news on new stock
Related Products